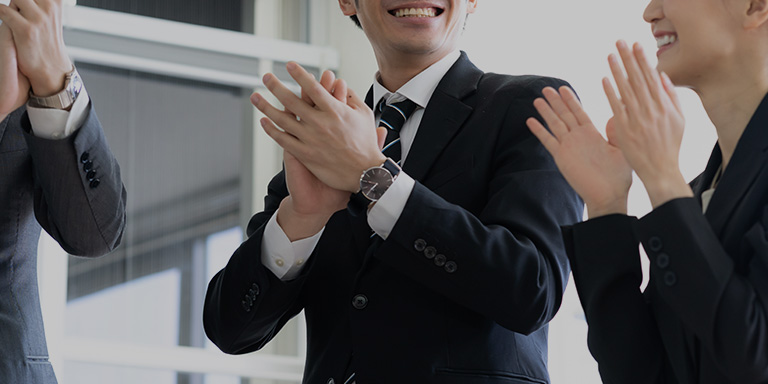 Commitment to Our People
Work Environment
Providing a Comfortable Work Environment
Our main office reception area, designed by a designer who graduated from a top art university in Japan, evokes warmth via the wooden materials used throughout the space

Meeting rooms are color-coordinated and named after traditional Japanese colors

Ichigo Lounge, a multi-purpose space with counter space and multiple meeting areas, created based on suggestions from employees

Meeting space setup conducive for online meetings and other meetings requiring a large monitor

Office hoteling facilitates communication between employees and departments

Office carpets feature stride suggestions as part of employee health initiatives
Supportive Workstyle & Workplace Initiatives
Ichigo offers flexible workstyles and support for employees to accommodate the diverse needs, life stages, and personal circumstances of employees.
Shortened Work Day

Ichigo offers all employees the option of a shortened five hours and 45-minutes work day in order to accommodate the diverse needs of employees at different life stages.

Maximum 3 Years Of Maternity/Paternity Leave

Employees can take up to three years of maternity/paternity leave for special circumstances such as illnesses or childcare unavailability.

Subsidies for Temporary Child Care and Elderly Care

Ichigo provides subsidies (up to JPY 10,000 per day for a maximum of 10 days per month) to help cover expenses for temporary childcare and nursing care services during work hours.

Paid Leave for Child Care

Employees with children in elementary school or younger can take up to 10 days of paid leave to care for their children when they are sick or injured.
Active Involvement of Women
Percentage of
Women Directors

Percentage of Women in Management Positions

Percentage of
Women Employees

Return Rate of Employees
Who Take Maternity Leave
As Of February 29, 2020
Internal Communication
Ichigo offers Ichigo University seminars that are not directly related to their daily work. (Approximately 20 courses/ year)

Ichigo invites children of the employees on Ichigo Kids Day

A year-end "Ichigo Get-Together" is held every year inviting all directors, independent directors, employees, and advisors of the Ichigo group companies.

SDGs workshop is held for the learning of all directors and employees across the Ichigo group.

Ichigo sponsors five clubs for its employees such as running, soccer, rugby, and flower arrangement.

Health-related information are shared at the weekly morning assembly.