Company
Introducing Kenji Iwasaki
Always Look Forward, Bold and Confident
(The below are excerpts from Iwasaki's autobiography, Gift)
Iwasaki was born in Katsuki, a coal mining town in Fukuoka on April 10, 1968.
Upon joining Fujita Corporation in April 1992, he was assigned to the Business Development Division. Iwasaki focused on urban development project sales and became the youngest Chief of Sales in Fujita's history.
In May 2001 he joined PI Technology (now Ichigo) looking for opportunities in the growing asset securitization market. Iwasaki devoted himself to new projects, and his achievements directly contributed to listing on JASDAQ within two years of the company's founding, the fastest listing in Japanese history.
Supported by a strong real estate market, in 2007 the company generated record earnings. However, the US subprime mortgage crisis that followed caused severe damage. Struggling to raise funds, Iwasaki met Scott Callon, the CEO of Ichigo Asset Management, a shareholder of the company. On August 18, 2008 Ichigo Asset Management invested JPY 5 billion, an investment that was meant to rescue the company. Unfortunately, it was to face yet another crisis almost immediately, the company's worst ever, with the collapse of Lehman Brothers in September 2008.
With Ichigo Asset Management the major shareholder, the company's Independent Directors asked Callon to become Chairman. Callon in turn asked Iwasaki to join him in leading the company as President, recognizing Iwasaki's strong real estate track record. Moved by Callon's determination to save the struggling company and committed to returning the favor, Iwasaki accepted the request.
Under the new leadership team, the company marked-to-market all of its assets, recording a JPY 45 billion loss in the February 2009 fiscal year, primarily due to valuation losses on real estate and private equity investments, and executed significant cost reductions despite tough market conditions. Having strengthened its balance sheet, the company returned to profitability the following year, and continued its V-shaped turnaround via new real estate investments and the launching of J-REIT and clean energy businesses.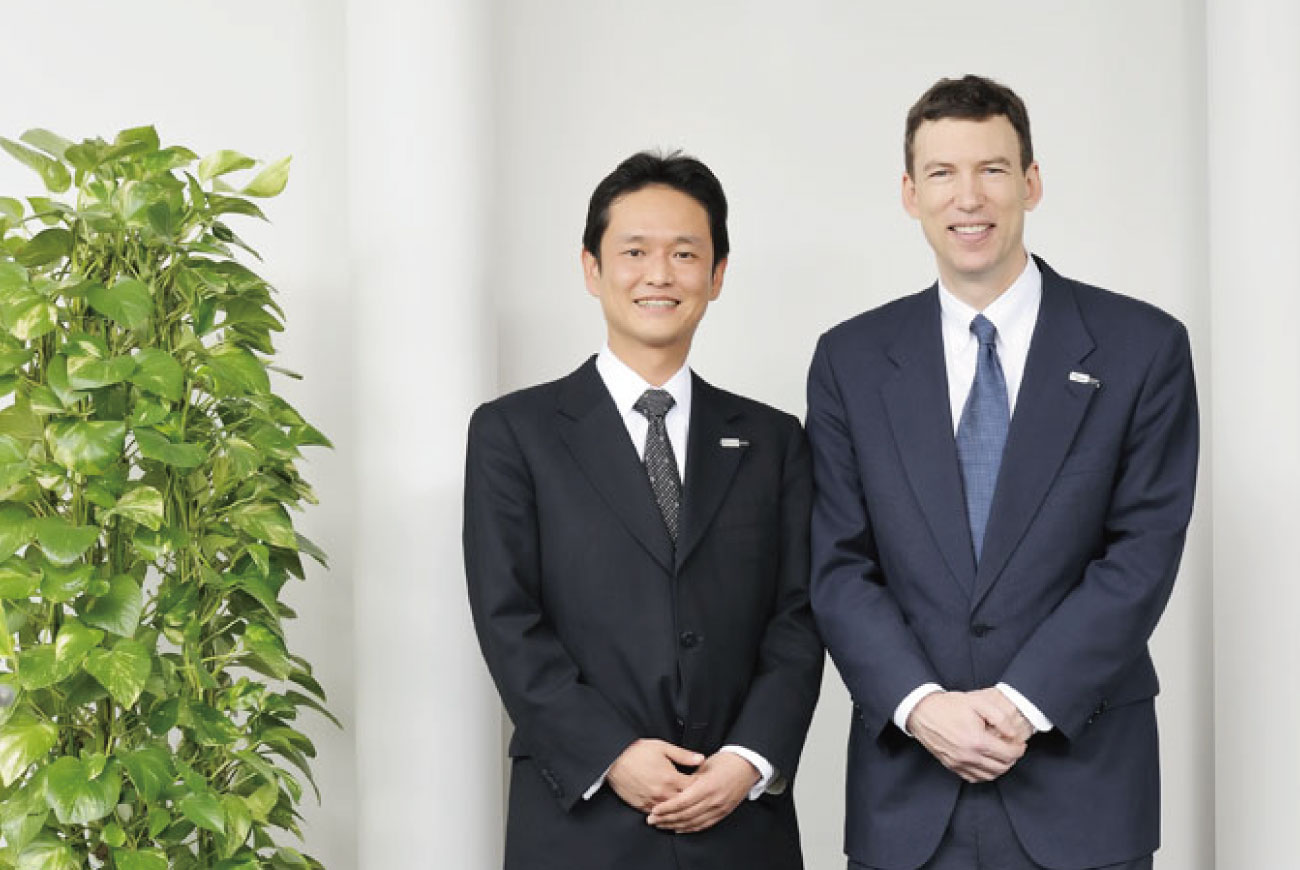 Renaming itself Ichigo in 2010, the company accelerated its growth with the arrival of Abenomics in late 2012.
It was in the midst of Ichigo's growth that Iwasaki was diagnosed with ALS (amyotrophic lateral sclerosis), a progressive disease of the nervous system that affects one in 100,000 people. While Callon supported Iwasaki continuing to lead Ichigo as President if he intended to continue working, Iwasaki was determined to hand over the role to a successor to support and ensure a smooth management transition. In May 2015 Hasegawa became the new President and Iwasaki joined Callon as Co-Chairman. Ichigo's senior management team was shocked to learn of Iwasaki's diagnosis. Iwasaki's doctor indicated at the time that he had only two to three years of life left before the disease caused respiratory failure.
Ichigo was listed on the Tokyo Stock Exchange First Section in November 2015. Iwasaki received the ceremonial plaque, representing Ichigo at the listing ceremony.
"There are no miracles with this disease, but I am going to dedicate myself fully to the challenge. 'There is no set path before us – the only path forward is the one that we create ourselves.' In the spirit of my words to our employees during the global financial crisis, I underwent my ALS treatment."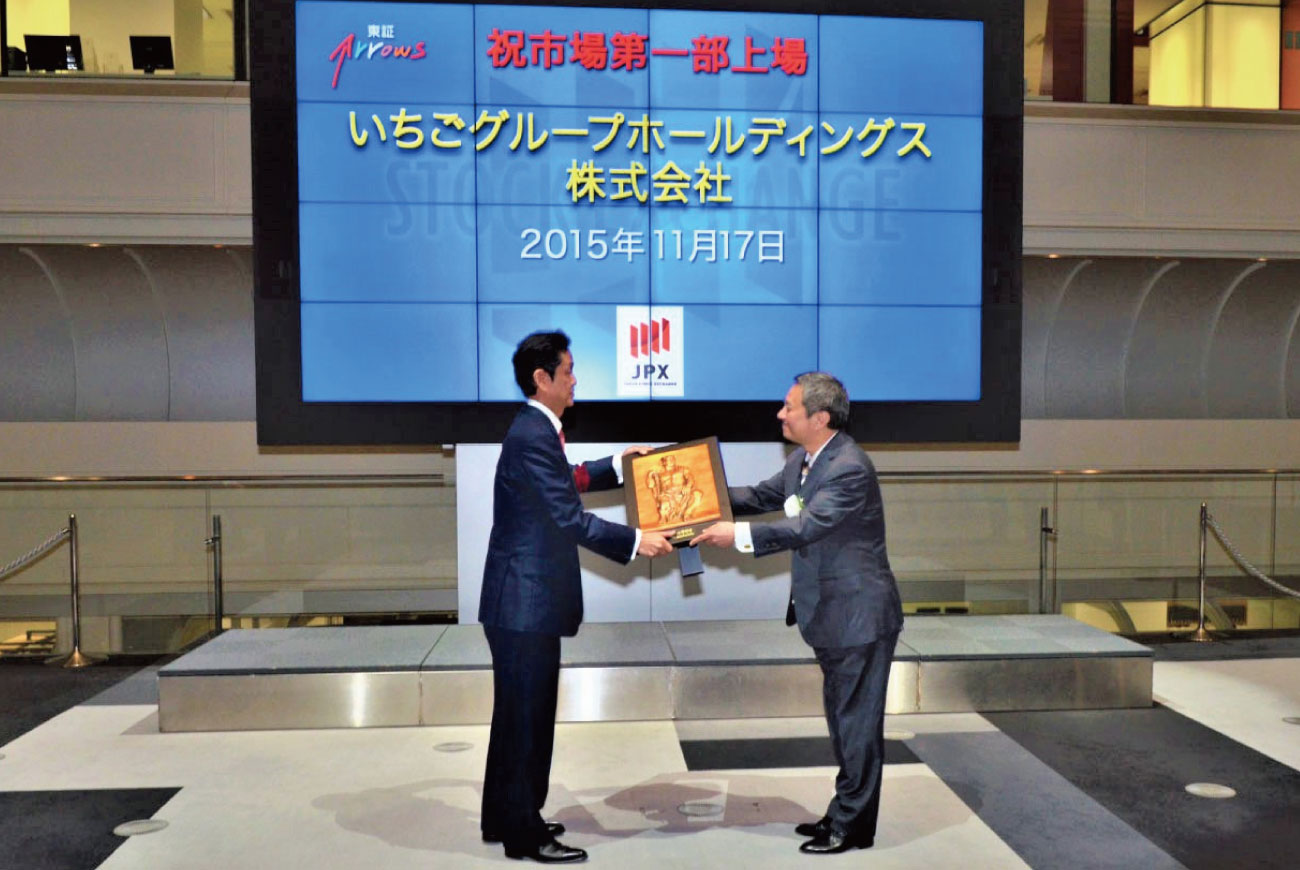 Battling ALS came with many sacrifices, but Iwasaki always thought about what he could do instead of what he could not. Despite the disease's increasing toll on his body, he continued to go to the office to lead Ichigo with Callon and Hasegawa until immediately before his passing on July 5, 2020 at age 52. Ichigo's growth would not have been possible without him.
Iwasaki's tombstone, inscribed with
"Ichigo Ichie
(One lifetime, one encounter)"
On his 49th birthday, Iwasaki sent an email to all Ichigo employees. He wrote about his disease and shared thoughts that until then only a few members of the senior management team had known about.
From Iwasaki's email:
"It is very disappointing to lose the ability to speak and move my body, to not be able to do so many things that I could have done in the future. However, I look back on my life and have no regrets. I lived life to the fullest in my own way, and was able to do so because of Ichigo.
When I was President, I often said that I wanted to make Ichigo the number one company in Japan as measured by creating opportunities for our employees, in the hopes that everyone at Ichigo could take advantage of the opportunities available to them.
Companies need to be profitable. This means challenging yourself to shift from unprofitable to profitable businesses without fearing change, and creating new businesses that meet social needs by starting small and then expanding boldly. It is also important to have the courage to close down as soon as possible unprofitable businesses or businesses that do not have strong long-term prospects, even if it means all your hard work has been erased. There are many real estate start-ups that have been swallowed by the market's ups and downs. Success is not possible without challenges. On the other hand, it's also necessary to have the courage to take a moment to pause and fight the pressures that inevitably come when you grow as a company.
Set your goals high and your requirements for happiness low. This is how I think and act now. What shapes happiness is inside your heart.
Having lowered my requirements for being happy, I have come to realize that our daily lives are filled with happiness. My heart overflows with gratitude.
As long as I am able to wake up in the morning and move my body, I am committed to doing what I am meant to do. I enjoy each and every day!
Always look forward, bold and confident."
Iwasaki's words gave us courage and determination.
In the spirit of our founder, Kenji Iwasaki, all of us at Ichigo will work to contribute to Japan's future.